Pennsylvania man appears in federal court after 4-day manhunt in Lowcountry
Published: May. 25, 2023 at 4:03 PM EDT
|
Updated: May. 25, 2023 at 7:19 PM EDT
CHARLESTON, S.C. (WCSC) - New court documents are giving insight into what led up to a four-day manhunt across the Lowcountry.
Michael Burham, 34, is facing federal charges after he was wanted in several states for his alleged involvement in the rape and unlawful imprisonment of a woman in Jamestown, New York. He was also wanted for allegedly kidnapping two victims at gunpoint from Sheffield, Pennsylvania, and driving them to North Charleston on Saturday, the FBI said.
A U.S. District Court judge issued a federal arrest warrant on a charge of unlawful flight to avoid prosecution on Monday.
Court documents state police officers in Jamestown, New York responded to a report of shots fired in the early morning hours of May 11. Once on scene, officers found a woman who had suffered gunshot wounds. She was later identified as Kala Hodgkin. Hodgkin's death was ruled a homicide, according to documents. Officials say at the time of her death, there was an active arrest warrant for Burham in connection to Hodgkin's rape.
While officers were investigating the homicide, an officer was called to another domestic incident in Jamestown. The victim told the officer that her ex-boyfriend Burham tried to break into her home and proceeded to set her vehicle on fire, documents state. Officials say the incident was caught on the victim's Ring doorbell.
Court documents state that sometime prior to May 11, Burham rented a vehicle from an Enterprise in Warren, Pennsylvania. The same vehicle was spotted in the area during Hodgkin's murder and the car fire. Burham also rented a hotel room in Warren, Pennsylvania during the same time frame. Officials say there were no reported sightings of Burham after the homicide.
On or about May 20, the Pennsylvania State Police were contacted by a woman who said her parents had not attended her daughter's soccer game, and she couldn't get ahold of them, according to documents. The victims' vehicle, a 2022 Honda CRV, was also nowhere to be found. The state issued a missing/endangered persons alert for the victims.
The following day, the North Charleston Police Department contacted Pennsylvania authorities saying they found the victims alive in a North Charleston cemetery. An interview revealed the victims were kidnapped at gunpoint from their residence in Sheffield, PA.
Investigators found a note that appeared to be written by Burham that read: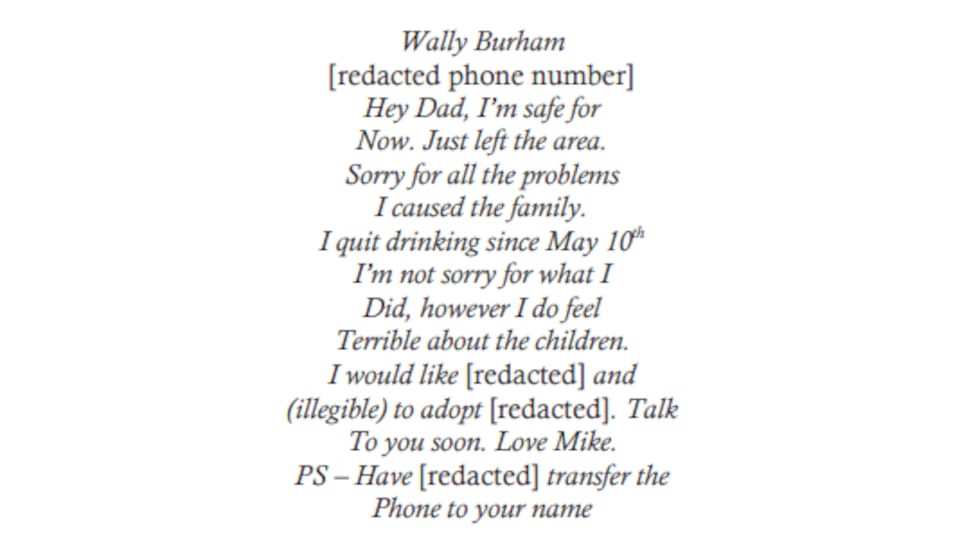 The search continued into Monday afternoon with little word on updates until North Charleston Police confirmed an increased police presence in the area of Rivers Avenue.
But by Tuesday, a sighting had been reported in Berkeley County, prompting a large response near Huger and eventually into the Francis Marion National Forest.
Hundreds of law enforcement officers from multiple agencies helped in the search for Burham in rural Berkeley and Charleston Counties.
Berkeley County Sheriff Duane Lewis told reporters Tuesday afternoon that deputies patrolling the area after a 911 call from Huger reported a possible sighting encountered what he called "a suspicious suspect" on a bicycle on Halfway Creek Road.
"They were asking questions. He was being real evasive, and at that point, they determined that he actually was the suspect that all the law enforcement agencies in the Lowcountry are looking for," Lewis said. "We had a brief foot pursuit with him in the woods here at the Francis Marion National Forest. At one point, we did deploy the Taser. He did escape from the immediate area."
Berkeley County deputies centered their search for the wanted fugitive on the Francis Marion National Forest on Tuesday. But deputies confirmed Wednesday morning that Halfway Creek Road, which had been partially shut down Tuesday, had reopened and that they had handed over command of the investigation to the Charleston County Sheriff's Office and the FBI.
A tip at approximately 11 p.m. Tuesday placed Burham near Broomstraw Hill Road in Awendaw, where Charleston County deputies spent the overnight hours and most of Wednesday searching for him.
During a news conference Wednesday, Sheriff Kristin Graziano said the FBI was offering a $10,000 reward for information leading to his capture.
A tip late Wednesday afternoon of a possible sighting in Berkeley County prompted deputies to shut down Halfway Creek Road at United Drive. It was in that area where he was eventually captured.
Burham appeared in federal court wearing a blue striped jumpsuit and shackles Thursday afternoon in Charleston. The initial hearing was to notify Burham of his rights. Burham waived his rights to both an identity hearing and a preliminary hearing.
He requested to have his detention hearing in the Western District of New York – where his original criminal complaint is from.
Burham will be transported back to New York for a detention hearing – the date for that proceeding has not been set yet.
Copyright 2023 WCSC. All rights reserved.