FIRST ALERT: Rain-free and comfortable to end the week
Published: Sep. 13, 2022 at 3:55 AM EDT
|
Updated: Sep. 13, 2022 at 3:21 PM EDT
MYRTLE BEACH, SC (WMBF) - Lower humidity and slightly cooler temperatures will usher in a comfortable stretch of weather through the end of the week.
WEDNESDAY
Lower humidity will continue to filter into the Carolinas tonight and into Wednesday to make for a very comfortable forecast. Morning temperatures on Wednesday will start out in the lower 60s inland and middle to upper 60s at the beach. By the afternoon, temperatures will climb into the lower to middle 80s with low humidity and a mix of sun and clouds.
REST OF THE WEEK
A noticeable drop in humidity will continue for the rest of the week resulting in a pleasant and comfortable forecast as well as a rain-free forecast. Daytime temperatures will climb into the lower 80s. Overnight temperatures will provide a hint of fall with readings in the middle and upper 60s at the beach and lower 60s inland.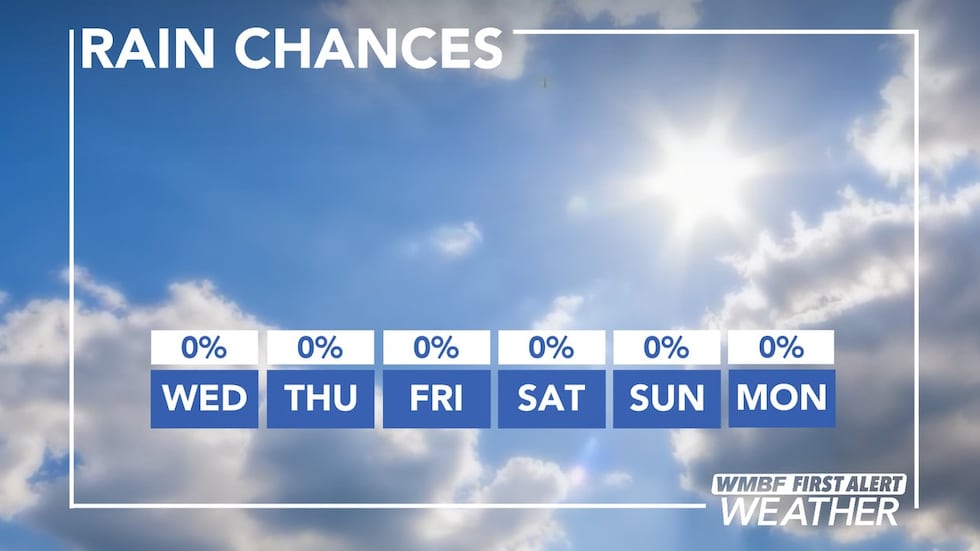 THIS WEEKEND
Unlike last weekend, the upcoming weekend will feature plenty of sunny skies and dry weather and plenty of opportunities to get outside. Afternoon temperatures will once again climb into the lower and middle 80s. Humidity levels will start to creep up just a bit, but will remain tolerable through Sunday.
Copyright 2022 WMBF. All rights reserved.